Last night we had a nice just-family celebration of Tihar at home. Last year, we celebrated with Bhawana's parents who were visiting:
Here are Nimesh's parents celebrating Tihar this week with Nimesh's brother Ritesh and his son at the family's bookstore in Thamel, the tourist district of Kathmandu:
This is a very familiar sight to me -- Nimesh's dad at the bookstore's counter where he regularly greeted me when I arrived to get my daily International Herald Tribune:
I'm looking forward to seeing both sets of parents next year.
Tihar in Nepal - Diwali in India
In both countries, this is a five-day "Festival of Lights" celebrated by Hindus in the fall. The first day is dedicated to worshiping the crow, considered the messenger of death by Hindus. The dog is worshiped as the representation of the Hindu God Bhairav on the second day.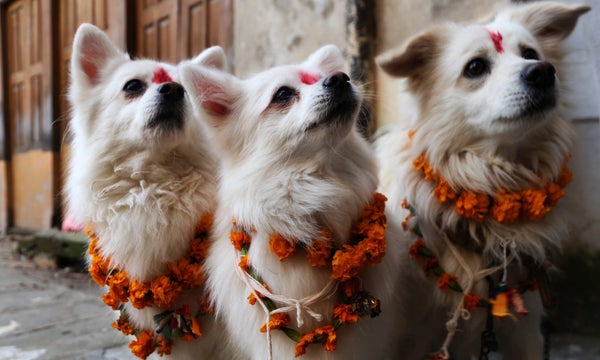 The third day is dedicated to the cow, considered the representation of the goddess of wealth, Laxmi. The bull -- a representation of the earth -- is worshiped on the fourth day. The final day is dedicated to sisters honoring their brothers. Here are some Tihar pictures from the roof of the Pokhara house where I spent so many wonderful days: